Table of Contents
Intro, Fixing a modular Layout
My Plans for my next layout
Hobby Power Supply (How I make a hobby power supply out of a "ATX" computer power supply)
Turnout controls
My Photobucket Page with all of my doodles and junk
Note: To get the full size picture of any picture "lift" click on said picture. It will open a new page of said picture. To return use your back button.
---
Intro
This web site is my ramblings about how I built a model railroad. In the first installment "Fixing a modular Layout" I will explain what I did wrong and how I was planning to fix it. But I have since disassembled my modular layout salvaging the track and turnouts to be reincarnated into a new design.
I have also reworked this site trying to tell you what I'm doing and how I plan to do it in the hope that someone will find this information useful.
---
Fixing a modular Layout
In my research concerning building benchwork for a Model Railroad using a modular type of construction I found these web sites to be very informative in this matter.
http://www.nmra.org/standards/modules/ms_intro.html Is a link to the NMRA's web site on Module building and standards there of.
http://www.stationroadbaseboards.co.uk They cater to the Model Railroader in Europe and have some really neat stuff, so check em out.
---
I find myself wanting to rebuild my benchwork. As I find out more and more about Modular construction I find that in my haste to build said benchwork. I just screwed one module to the next. That in its self was a mistake. While this did make taking the mods apart easy enough. The Realignment is a problem!
With my last layout I used pine 1x4's for the framing with 3/8 plywood with foam board over it for my layout top. Then laid my track work over that. While this has made for sturdy benchwork I do need to fix a few things. Namely the module joint or rather the realignment of the modules if and when they are ever taken apart to be moved. Sense the layout benchwork was already built and assembled. And had 45" from the floor to the bottom of the layout framing I have enough room, that I could drill the alignment holes for the dowels and carriage bolts from below the layout. Taking care of the module frame alignment problem, I then had to take care of the track transition from module the module. I'm planning to remove some foam and install wood blocking glued and screwed to the plywood that's already is place then using brass screws installed in the blocks. I can solder the rails heads to the screws, then cut the rail joint across the joints. This well take care of my rail alignment problem.
To fully understand the problems with my last layout you have to understand the modular benchwork first.
---
Most of my modules are simply rectangular frames
With 2x2 legs 48 inches long for support.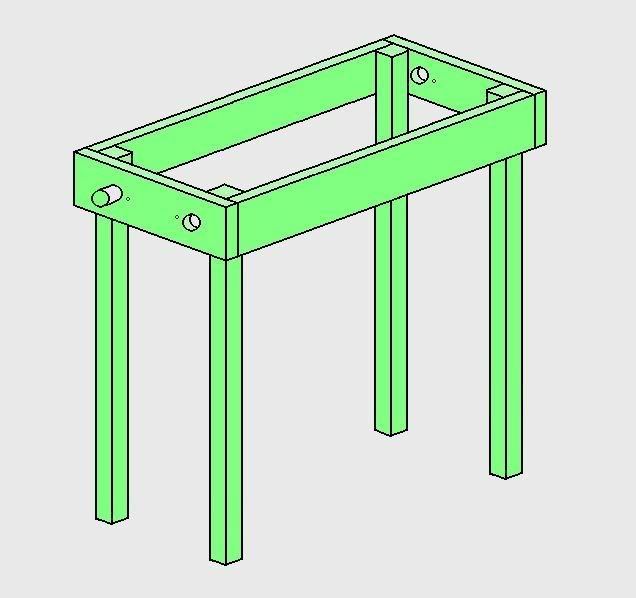 The Track Joint From Table to Table